A True Story about Perseverance and Sacrifice
Michael Cheman is like most parents when it comes to wanting the very best for his children. His son Joe, currently going into his senior year of high school, is an intelligent student who excels in the classroom and a talented athlete who impresses on a baseball diamond. Three years ago Michael and his wife Karen were faced with the decision about where to send Joe to high school. As residents of the city of Buffalo, they had a number of options in the public and private sectors, each with their own advantages and disadvantages.
"We went to the freshman orientation at Canisius High School," Michael recalled. "I loved everything about it. The religious aspect, the structure the school provided, the drive of the students – it seemed like all the students helped push each other to do better."
"Unfortunately, I knew I couldn't afford it."
The cost to attend Catholic schools is probably the most common obstacle for families wanting a Catholic education for their children. For Michael, an independent distributor of bakery products for local retailers, he was still working on paying off the loans associated with acquiring his delivery route and truck. The family was already making moderate financial sacrifices at home, and the notion of adding an annual tuition cost of $17,500 for high school seemed well out of the realm of possibilities.
Michael was encouraged by a friend in education to apply for financial aid, just to see what kind of assistance might be available to Joe. But Michael found the lengthy paperwork to be daunting and was convinced that even with any aid that could be given, the remaining cost would still be a struggle for the family. So Joe began his high school education at one of the local public schools, successfully completing his freshman and sophomore years there, but there was something that still gnawed at Michael even two years later.
"He did very well there, but I just didn't feel like it was preparing him for college and preparing him for life," Michael explained. "As a father, I felt like I was failing my son to get the best he could get."

Prior to Joe's junior year, Michael's friend again urged him to apply for financial aid, reminding him of the fact that junior year was the last time that new students could transfer into Canisius. This time Michael completed the paperwork. Following a series of interviews that Joe had at the high school, the head of admissions contacted Michael and told him that Joe had greatly impressed the dean, and a generous financial aid package was offered to him. Even though the remaining cost would still require some family sacrifice, Michael knew that Canisius was the best fit for Joe.
Catholic schools are known for being committed to educating and developing the whole student – academically, physically, spiritually, and socially. They are rooted in rich faith traditions and high expectations, and emphasize putting values and principles into action through words and service to others. Now with that first year at Canisius complete, both Michael and Joe feel that the move to the Catholic high school was instrumental to Joe's current and future success.
"The academics, the sports, the respect and values taught, the religious aspect – every part of it is exactly what kids need," Michael said. "They are being set up to be successful in life."
"The biggest change that I noticed in the classroom was how much the teachers really care about us, and how much they would do anything to help you succeed," Joe added. "You're not just a number here. You're part of a family and a brotherhood, and everybody knows each other and looks out for each other."
Joe, who is a starting pitcher on the Varsity baseball team, also believes he's had a greater opportunity to develop his athletic skills and prepare for college sports by being on the Canisius baseball team. The coach for Canisius is a former professional baseball player, and Joe said the knowledge and insight he's been able to provide has been invaluable.
"In these days, sports are another tool to get into colleges," Michael agreed. "When you have a coach that is well-known and respected, has a lot of contacts at colleges and different professional teams, that helps to open the door a little bit more for these kids toward scholarships and acceptance into colleges."
When asked what advice he would offer to any parent considering a Catholic school education for their children, Michael says to go into it with an open mind.
"I went into it with a closed mind, already having decided that I couldn't afford it," he said. "That is my biggest regret – that I didn't fill out that financial aid paperwork when he was a freshman. There is help out there, and you never know until you try. Of course there will always be some sacrifice, but as a father, it's completely worth it to see your child succeed. And when you really think about it, is it really a sacrifice? Because in the end, we're so much further ahead."
At the Foundation, we believe that no child should be denied a Catholic education based on finances alone, and deeply appreciate the sacrifice of your gift to our Emergency Tuition Assistance Fund. Your gift will assist in offering a child and their family the gift of a bright and shining future built on a strong foundation of values that will carry them on their life's journey.
May God bless you and your loved ones!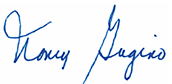 Nancy Gugino
Executive Director
The Foundation of the Roman Catholic Diocese of Buffalo
PS – The Emergency Tuition Assistance Fund is for all Catholic Education both elementary and high school for those most in need. Because of your dedication and generosity, we can continue to offer much needed education scholarships. We deeply appreciate the sacrifice of your gift and your commitment to Catholic Education.